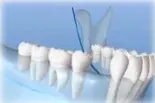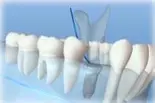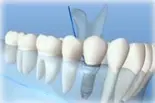 One of the biggest technological advances in dentistry is the dental implant. Implants have given patients another treatment option for tooth replacement. Dental implants are becoming more and more the standard of care. They are designed to provide a foundation for the replacement of teeth which look, feel, and function like natural teeth. The person who has lost teeth regains the ability to eat virtually anything and can smile with confidence, knowing that teeth appear natural and that facial contours will be preserved. Traditionally, a bridge was placed to replace a missing tooth but implants now provide a more predictable and long-term option.
Dental implants are appropriate for almost anyone who is currently missing teeth or is at risk of losing teeth. Functionally and cosmetically, implants are very comparable to natural teeth. Also, loose-fitting dentures can be secured by placing implants which will aid in the overall chewing function, preserving facial structure, and preventing bone deterioration.
The implants are small titanium screws that have a special coating allowing bone to heal to the surface. This creates a strong foundation for the artificial teeth. These implant fixtures are basically tooth root substitutes. Once this implant has healed to the bone, attachments are inserted into the implant fixture which protrude through the gums. These attachments provide a stable anchor for artificial teeth.
For most patients the placement of dental implants involves two separate surgical procedures. The implants are carefully placed within the surgical site. For approximately, four to six months following surgery, the implants are under the gums gradually healing to the bone. During this healing period, you can usually eat normal foods and can arrange for your dentist to make you a temporary denture. Following the require healing time, Dr. VanHoose will uncover the implants and a healing post will be placed allowing the gum tissue to heal before your dentist places the artificial teeth. Once the gum tissue heals for a week or two, your dentist will begin making your new replacement teeth. Most patients experience minimal post-op discomfort and disruption in their daily life.
Using the most recent technology, Dr. VanHoose, can now place single-stage implants. These implants do not require a secondary procedure to expose them, but still need a healing period prior to placing artificial teeth on them. This means the implants can be placed immediately in the tooth socket after removing the teeth. Furthermore, in select cases, it has now become possible to place implants that tolerate immediate loading. Therefore, the artificial teeth can be placed on them immediately, often in the same day that the original teeth were taken out!
All patients considering implants will watch a very informative video during their consultation appointment which outlines the risks and indications for implants. Furthermore, an implant booklet will be provided in order for you to read about implants once you leave the office. Dr. VanHoose has extensive experience in dental implants and would be pleased to discuss the benefits of implant prosthetics with you.
Call our Caledonia, MI office at (616) 891-1700 or our Alpine, MI office at (616)785-1700 to make an appointment!